Online marketing is a great way to promote your business online. It allows you to target customers looking for products and services similar to your business.
It also allows you to promote your business online and drive more traffic to your website through social media, search engine optimization, email marketing, content marketing, and mobile optimization. With online marketing, people can find out about new products and services, existing deals, social media posts, blog content, website content, etc. This will help people discover new customers and generate new leads for your business. All of this happens without customers needing to visit your establishment physically. In this blog, we'll discuss how online marketing can help grow businesses and scale them up.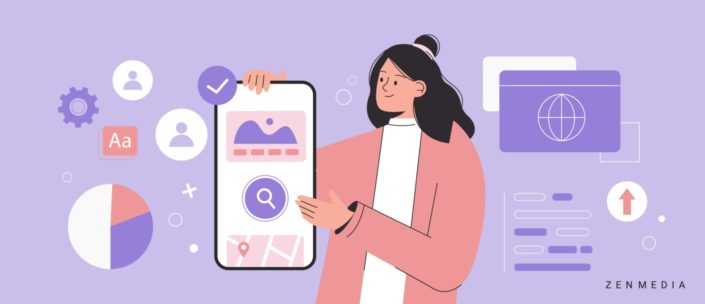 The Fundamentals of Scaling a Business Through Online Marketing
Marketing is vital in driving growth and acquiring new customers. Investing in marketing will help businesses reach out to potential customers and add value to their products and services.
This can be done by investing in digital marketing, such as social media, email marketing, and advertising. These strategies are efficient and effective ways to drive customer conversions. Investing in marketing also means hiring professionals to make content for websites, social media posts, email marketing campaigns, and other digital channels. This content can be tailored to customers' interests, giving them helpful information that helps them learn about, think about, and buy a business's products and services.
Another way businesses can invest in marketing is through the automation of processes. Companies can save time and money on costly manual efforts by automating business processes. By automating business processes, businesses can increase throughput without compromising on quality or customer experience. Investing in new technology can also help enterprises to address challenges such as rising client churn, low-profit margins, finding quality talent, etc.
Leverage Social Media
Social media marketing is a powerful tool for reaching customers and prospects. Developing a consistent brand name and persona across all platforms is essential. This will help your business to connect with customers on a deeper level and build trust and credibility. To boost digital marketing, you can use influencer marketing and discounts to gain the attention of potential clients. This will help you reach new audiences and generate leads and customers. Furthermore, social media features like Instagram and Facebook shops, direct messaging, call-to-action buttons, and appointment booking capabilities can assist you in growing your business. Social media marketing is also an excellent way to give your business a personal touch, bring people to your website, and find new leads and customers. Thus, companies should pay attention to it when developing strategies for digital marketing.
Utilize Email Marketing
Email marketing is a great way to gain customer revenue and encourage repeat purchases. Online marketing tools can collect email addresses from your website, send automated emails to customers like welcome messages, discounts, and onboarding, and work with other channels like social media and PPC advertising to get more people to sign up for your email list. With the help of online marketing tools, you can create high-quality content that will convince customers to buy your products or services. Email marketing also has a lot of potential for getting customers, keeping customers interested, and getting them to buy.
Optimize Your Website for SEO
Organic search engine traffic is the lifeblood of business online marketing strategies. However, you must optimize your website for SEO to get more organic traffic. This includes factors such as title tags and meta descriptions, website speed, and more links to your site.
A keyword research is essential before you start targeting long-tail keywords that have clear intent, low competition, and account for a large portion of searches. You can target keywords with high potential to drive organic traffic to your website by doing keyword research.
You can also use images optimally on your website. Optimizing images for size and src attribute can help increase website speed using the WordPress content management system. Also, you can improve your SEO by making content that answers the questions our audience is looking for.
Take Advantage of Automation Tools
Automation is the future of small business marketing, and it can help scale up businesses by taking on some of the more tedious and time-consuming tasks. Investing in new technology solutions can save time, reduce costs, and free up resources to focus on new growth opportunities.
Automating tasks like customer service, accounting, and inventory management, these technologies can help businesses be more productive and make more money. These investments allow businesses to save time, money, and resources for other initiatives.
CRM systems are a great way to manage business operations better. These platforms automatically track business data, so businesses can focus on growth instead of doing things by hand.
Automation also helps save time and effort by reducing the need for humans to perform specific tasks. Automation tools are also important for marketing campaigns because they save time, reduce mistakes, and make things run more smoothly. However, investing in the right solution for your business's needs is essential. The best way to do this is by comparing different automation tools based on features, price points, and customer satisfaction ratings.
Conclusion
There is no better way of marketing your business online than through social media. It allows you to target customers looking for similar products and services. You can get the word out about your business online by making social media accounts and posting content that will appeal to your customers. Social media allows customers to interact with each other, which in turn boosts brand awareness and customer engagement. Additionally, it will enable you to build relationships with potential customers. If you have specific strategies that work well for your business, comment below and let others know! We hope this blog has helped you understand online marketing a bit better!